Hey guys,
I'm getting out of the Glock business, and as a result, am selling off my spare parts.
I have feedback on several sites, and if you need it, let me know.
Do not ask where I got the parts, it doesn't matter.
For any prices, please add $5.00 for shipping and handling.
I will not ship anything under $5.00
Please note that all parts are used
ALL PARTS WORK WITH KWA OR KSC
Any questions? Please ask!
My Terms of Sale
Payment Options
You have three payment options. I accept PayPal, Cashier's Check, or Money Order.
I only ship AFTER I have verified that you have paid me. If you are paying with PayPal,
I'll cover the fee's.
No Returns
Shipping Information
I always ship via USPS priority unless otherwise requested. I will make sure that your
package is wrapped nicely to ensure a safe trip. Item will be shipped within 2 days of
me receiving the payment. If I am unable to do so, I'll let let you know. The same
day I send the package out, you will get a tracking number so that you can get excited
when the day comes that it arrives.
__________________________________________________ ___________________________
Full Auto Assemblies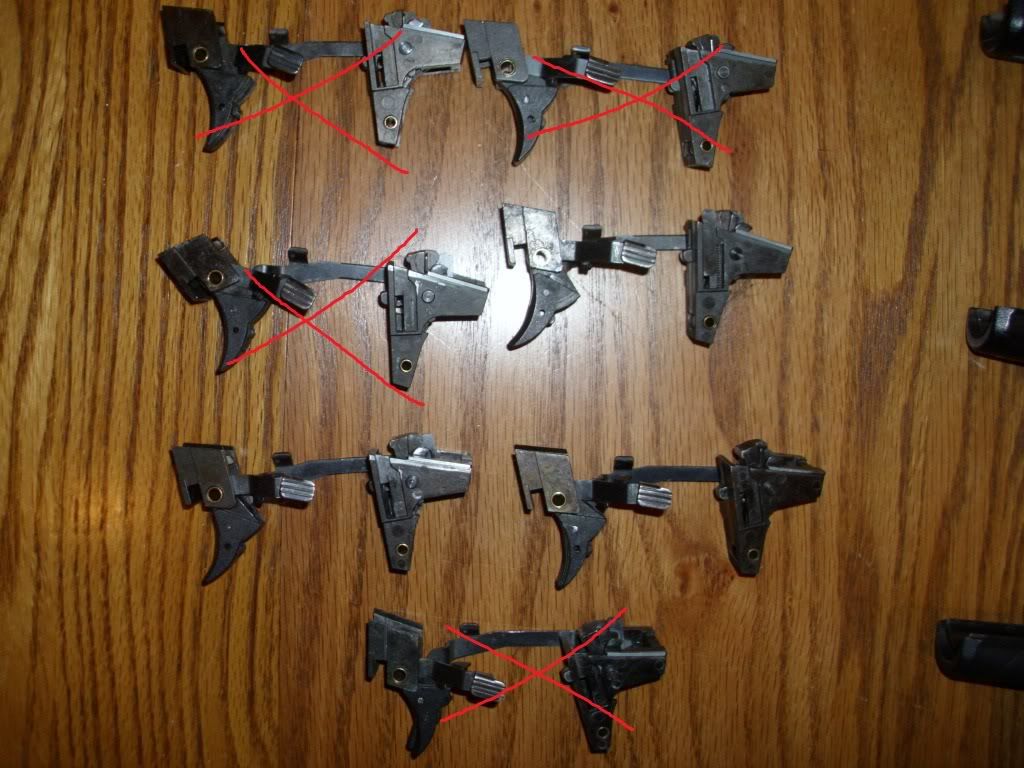 Here we have several full auto assemblies. All parts are there, they are a direct drop in. I have no idea if they
work with your gun, as I have not been able to test them due to lack of a testing platform. All parts are there though,
and they should work. But again, I'm not sure.
Two of them don't have hammer springs.
Price: $15/ea or $10/ea without hammer spring
KSC/KWA Glock 26 Frames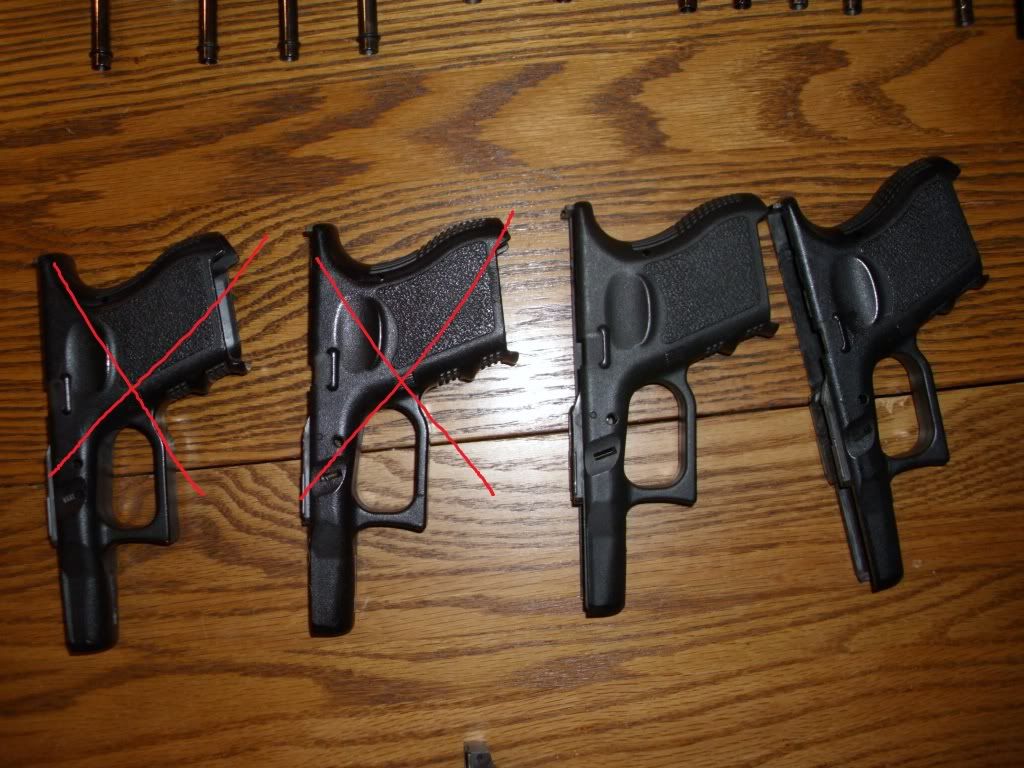 Here we have 3 KSC Milspec trademarked frames. All parts are in them. I will also include the pins
if needed. Magazine catches are worn.
Also 1 KWA Frame, no trademarks.
Price: $15/ea
Barrels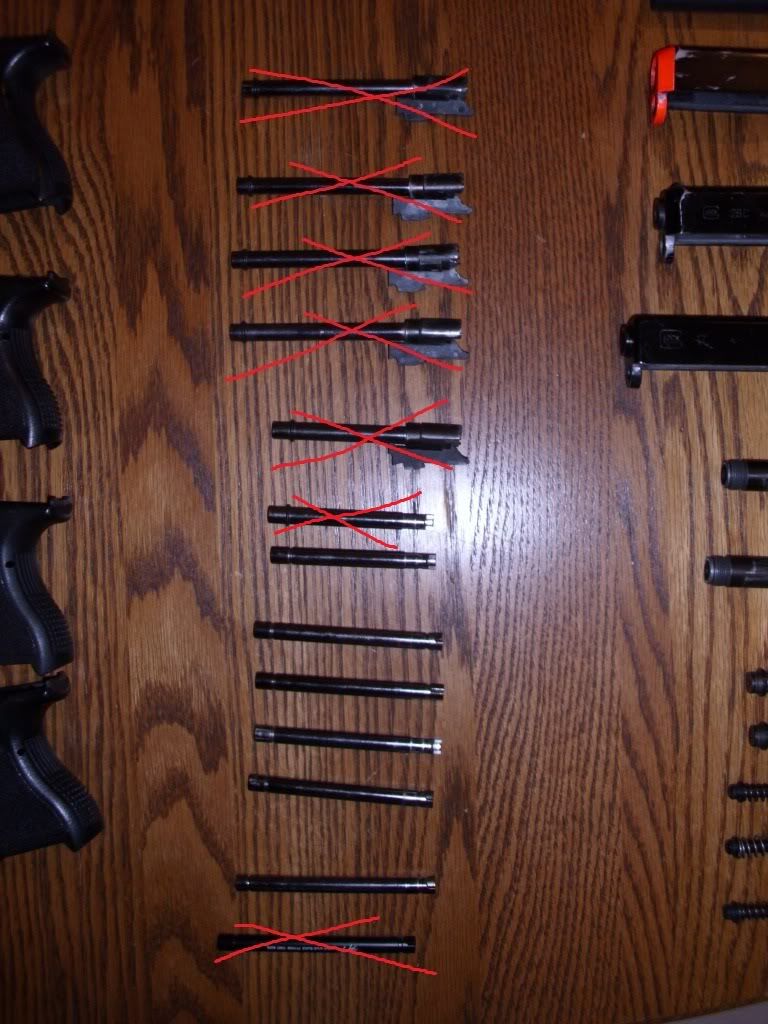 At the top are 4 Glock 17 barrels with hopup., direct drop in. Below it is obviously a Glock 26 barrel with hopup.
All parts are there, but not sure which ones need a new hopup rubber, pretty sure they are all fine.
I then have 2 G26, 4 G19/23, and 2 G17 barrels, one of which is a Black Python.
Price: $12/ea with hopup $5/ea without.
Black Python $8
Slides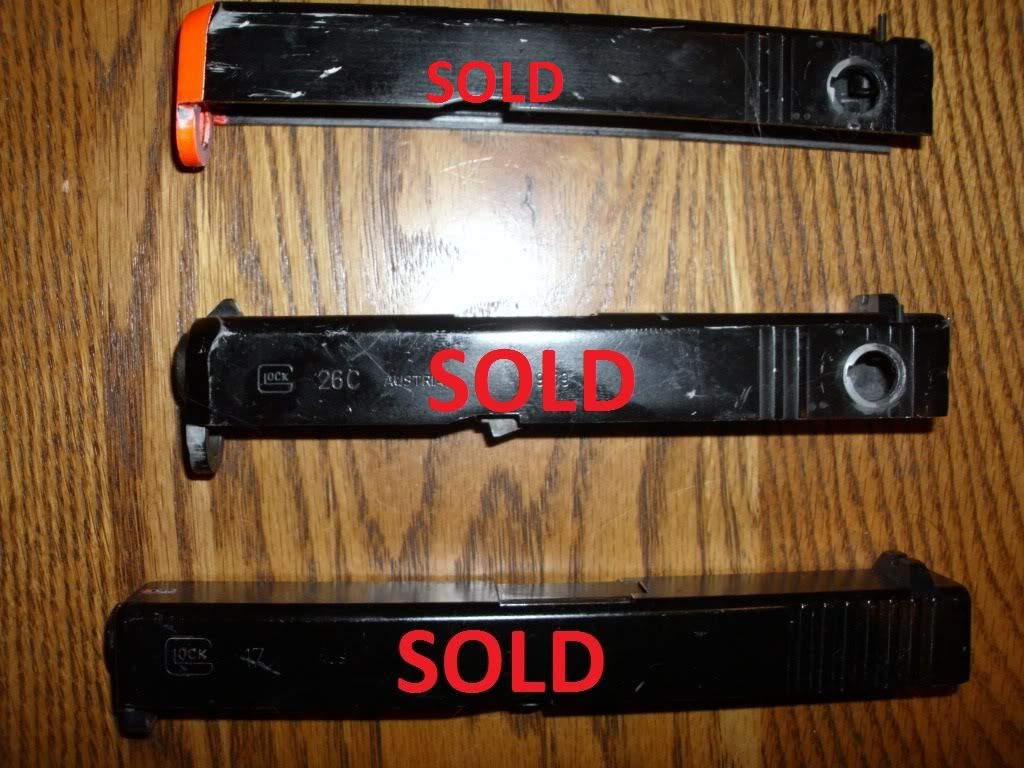 I have 1 KWA Glock 26C slide with plastic outer barrel. still has orange tip.
I also have a KSC Trademarked Glock 26C slide set. Outer barrel trademarked as well.
Lastly I have Full trademarked Glock 17 slide set. The trades are a little work, as it seems
the indentations aren't very deep, still can seem them fine.
Prices: KWA G26C - $10,
KSC G26C - $20
KSC G17 - $25
Outer Barrels/Springs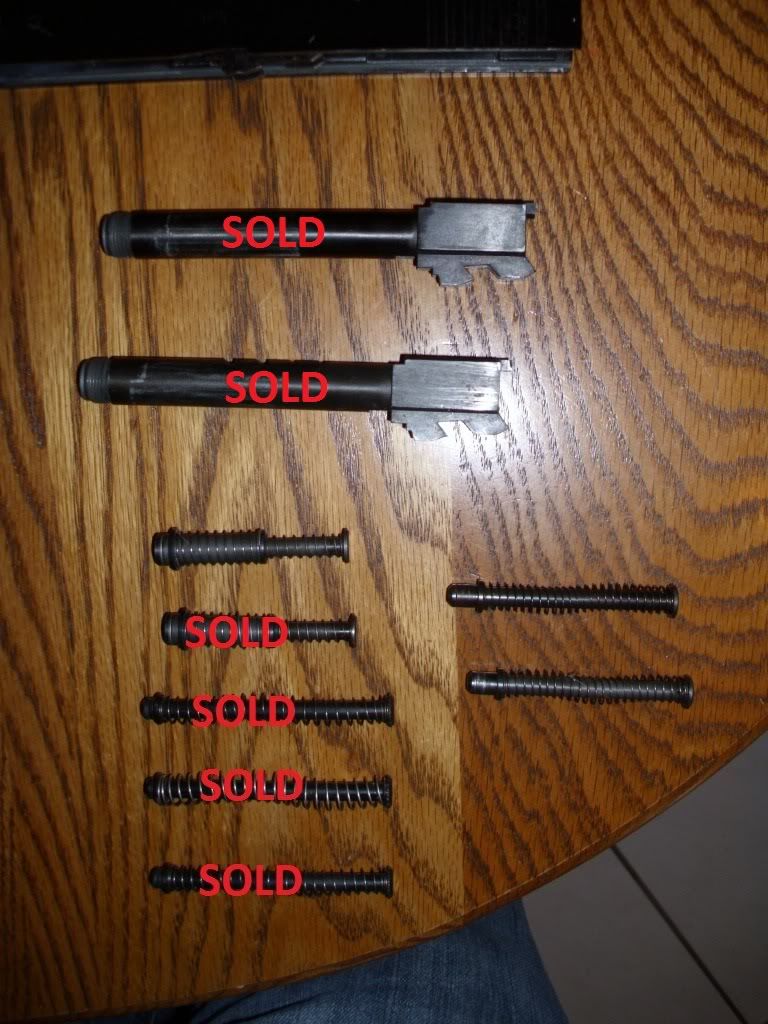 I have two threaded barrels with trademarks.
Also have 2 G26 Springs, 3 G17 springs, and 2 G23 springs
Prices: Threaded Barrels - $20, Springs - $5
Internal Parts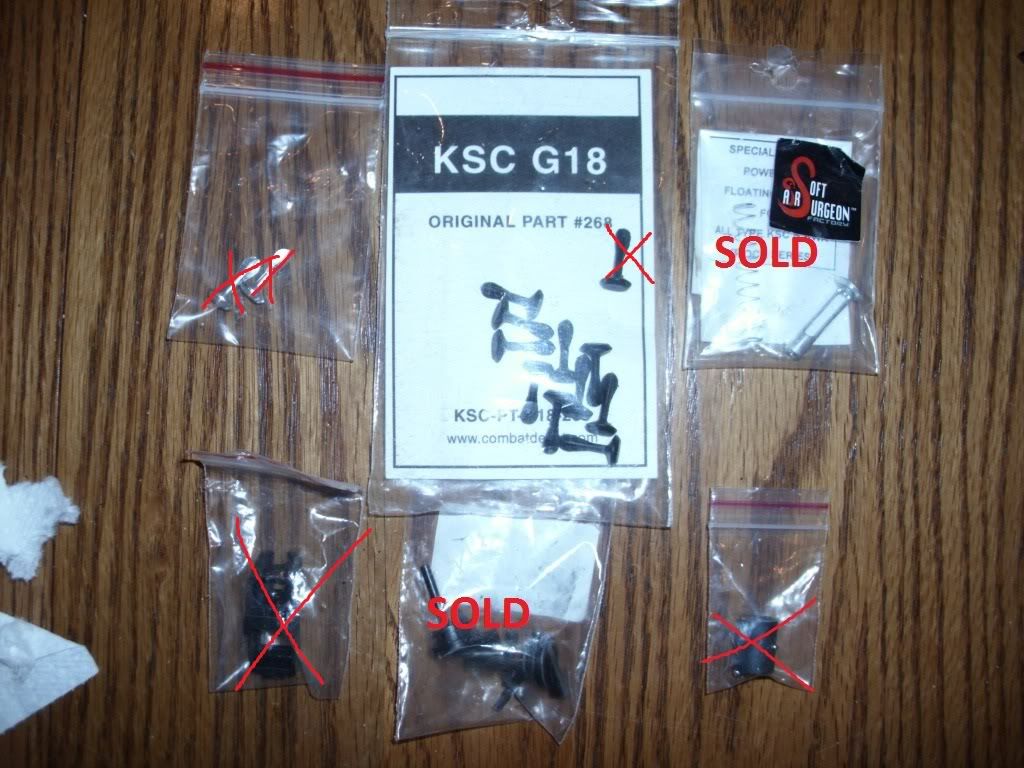 Here we got quite a bit of everything.
I have quite a few plastic rocket valves -
$4/ea
2 Metal rocket valves -
$10/ea
2 Complete selector switchs ets for Glock 18 (include retention pin, switch, and ball
$8/ea
2 Hopup balls (nub)
$4/ea
Magazine lip
$10
Airsoft Surgeon Rocket Valve
$6
Magazines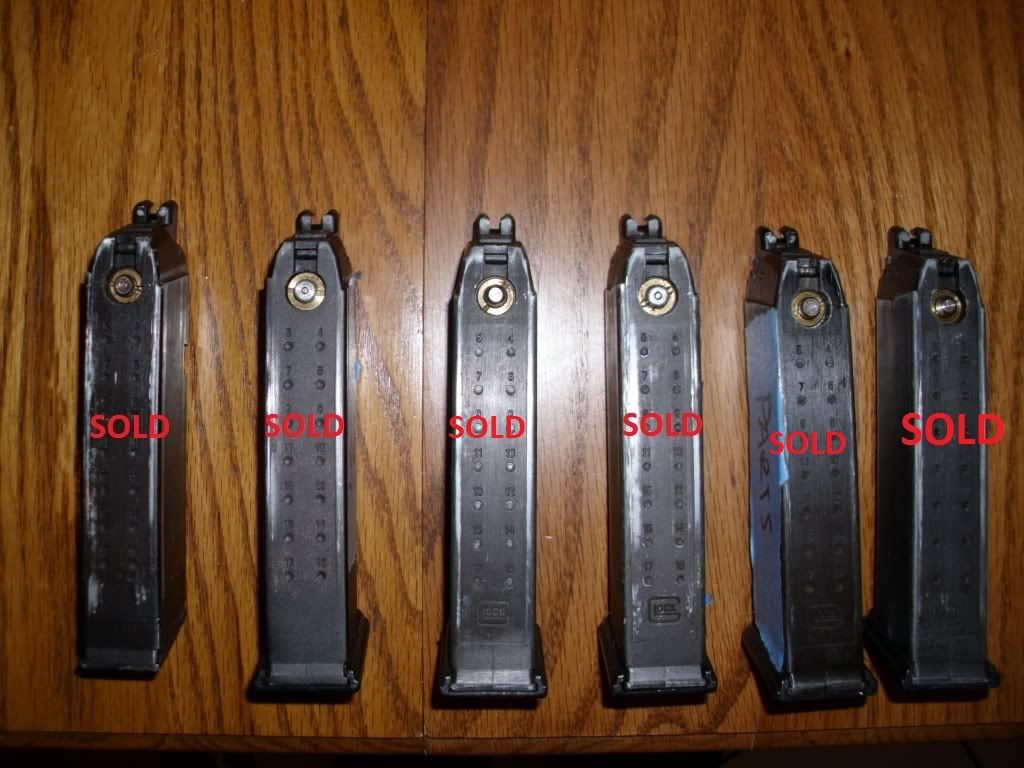 Last but not least we have the magazines. They are #1-6 left to right accordingly.
I cannot guarantee that these will work in your guns, as they may not sit properly because each gun has different wear.
Magazine #1 - Holds Gas, missing base plate
$12
Magazine #2 - Slight Leak in base, not the fill valve
$10
Magazine #3 - Trademarked, leaking out of top valve
$8
Magazine #4 - Trademarked, holds gas
$12
Magazine #5 - Trademarked, base plate trademarked, but cracked, slight leak at top valve
$12
Magazine #6 - Holds gas
$15
Misc Parts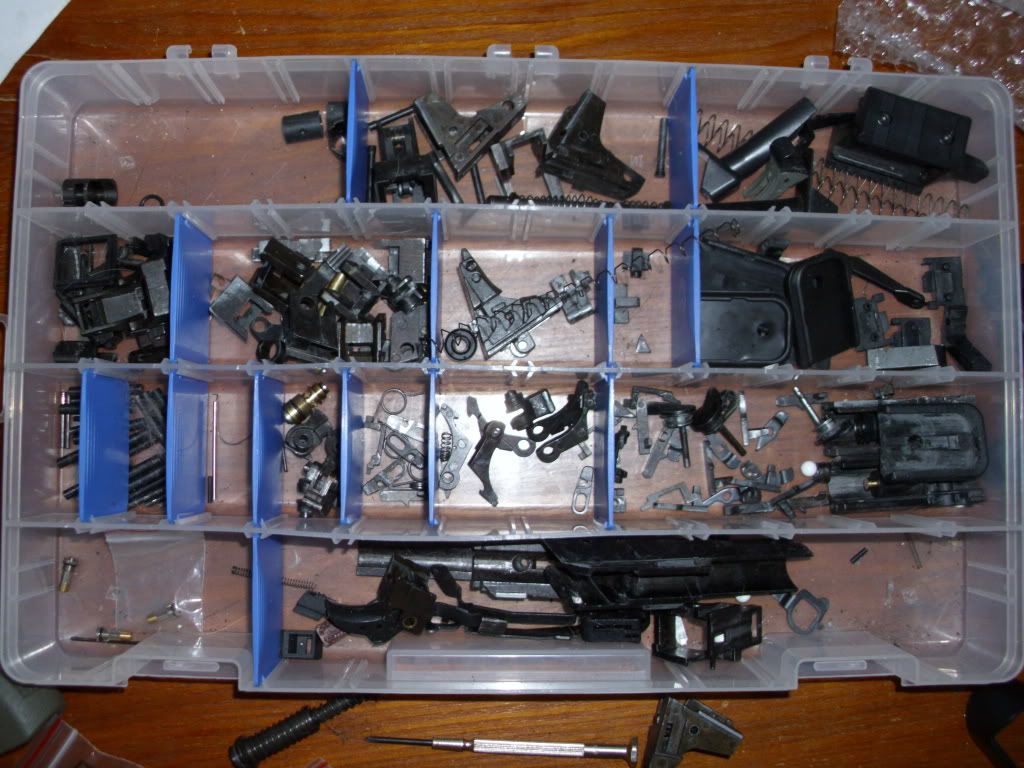 Please look at the picture, and if there is anything in the bin you want, give me a price.
If you are looking for a specific part, please let me know, as I can almost guarantee I have it.
Thanks for looking!