SocomGear (continued...3/3)
Posted 02-06-2010 at 12:07 PM by
vietec
Ugh, pic limits do not get along with me and my reviews...
Firing:
-Firing this thing is absolutely amazing. It doesn't waste it's time with flashy doo-dads, or fancy loading systems. You just simply feel a nice, crisp, and very
exciting "snap" everytime you shoot. It cycles quite quickly for a metal slide and barrel pistol, but then again, for what I paid, I expected this.
-Shoots around 350FPS, tested with the in-store chronograph.
-Recoils very quickly
-Has a double action trigger on the first trigger pull
Accuracy:
-This thing is quite accurate for a Gas Blow Back.
-I was able to hit a man sized target (A 22 year old male friend in fact :a-laugh
from a fair distance by estimation, 30ft very easily.
-The accuracy is more than sufficient for it's intended purpose for CQB.
Conclusion:
-This gun is definitely worth the cost, accepts WE magazines, runs clean, and is an absolute delight to fire. It takes second thus far only to one gun, and that's
my KWA M93R. The best thing about this gun is that holsters should be easy to find, and decently cheap, in comparison to my beloved M93R.
-The gun looks astounding, almost everyone that I have shown this gun to loves it.
-Go try one in a store for yourself, pictures do not do the gun justice...but here's some more pics anyways!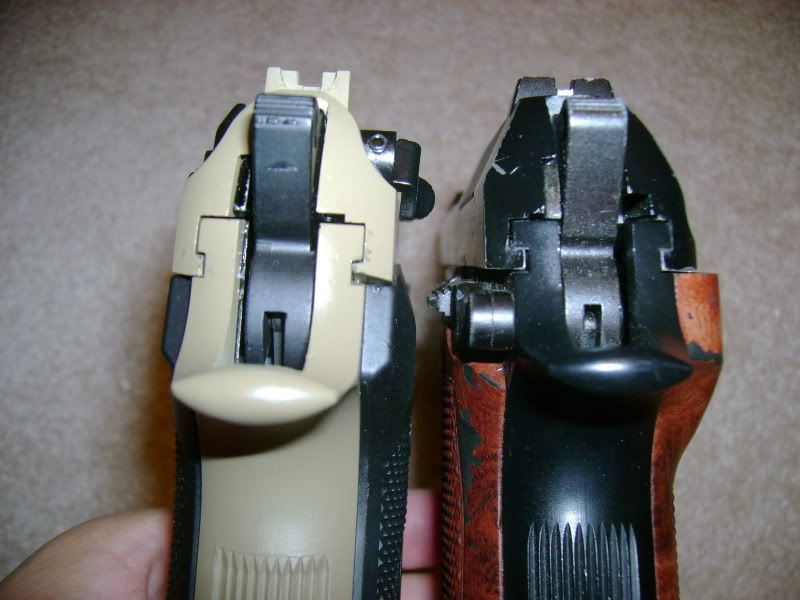 Views
6472
Comments
2
Comments
Posted 08-15-2010 at 07:13 PM by

vietec

Posted 08-18-2010 at 10:49 PM by

vietec